Electroweak Standard Model
Lagrangian with a global

symmetry:

where

and

,

and

Local

symmetry: This consists of two things. First changing the partial derivatives to covariant ones:

and second adding the kinetic terms

of the vector gauge particles to the lagrangian.



This breaks the gauge invariance. The

are going to be added to

so we can set

now.
Higgs Terms

Plugging in the covariant derivatives and

in U-gauge (symmetry breaking):







Where we put


we defined

by the relation

so that the expressions simplify a bit, e.g. we now get:



Yukawa terms



The term

is

(hypercharge) invariant, so

Leptonic Terms









Where we substituted new fields

and

for the old ones

and

using the relation:


The angle

must be the same as in the Higgs sector, so that the field

is the same. We now need to make the following requirement in order to proceed further:

This follows for example by requiring that neutrinos have zero charge, i.e. setting

and substituting for

from the definition (see the Higgs terms), from which one gets

. From

we now get

it now follows:




and the Lagrangian can be further simplified:





Where we used the relations

and

.
Gauge terms










Where

and:






GWS Lagrangian
Plugging everything together we get the GWS Lagrangian:







The free parameters are

,

,

,

,

,

,

.
Particle Masses
The particle masses are deduced from the terms

comparing to the above:

we get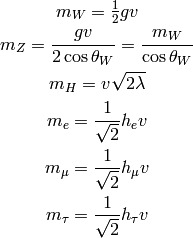 Note that those are the bare masses (e.g. in order to obtain the real mesaured masses of the particles, one has to renormalize them by calculating the higher order corrections given by the loop diagrams).
Parameters of the Standard Model
The free parameters are

,

,

,

, then three masses of the charged leptons

,

,

, six quark masses and four parameters of the CKM mixing matrix, which gives 4 + 3 + 6 + 4 = 17 free parameters (if one allows for three neutrino masses and the corresponding four mixings parameters, one gets 17 + 3 + 4 = 24 free parameters).
They can be traded for other physical parameters (see below), but their numerical values are not predicted by the theory, so they have to be measured and their experimental values are approximately: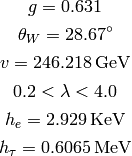 All the parameters have been measured quite exactly, except

.
Other physical constants can then be calculated using the formulas: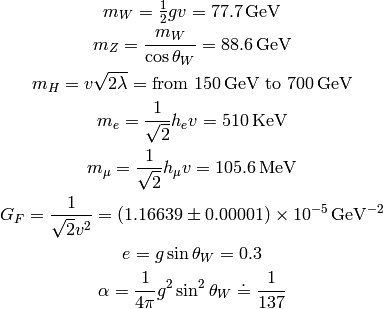 Quarks


Low energy theories
Fermi-type theory
This is a low energy (

) model for the EW interactions, that can be derived for example from the muon decay:

From the SM the relevant Lagrangian is

and one gets the diagram

and the corresponding matrix element:

which when the momentum transfer

is much less than

becomes

but this matrix element can be derived directly from the Lagrangian:

with

This is the universal V-A theory Lagrangian (after adding the h.c. term). Note that the Fermi constant

is equal to

.
For the beta decay we get:

where

,

is the Cabibbo angle and

.